Lesson 1 : Facebook Introduction
A brief history of the Facebook algorithm
2004 – 2009:
Facebook was born in 2004, but its newsfeed didn't show up until 2006. The Like button premiered in 2007, but it's probably safe to say that Facebook didn't have what we think of as "the algorithm" until 2009, when the platform debuted a new sorting order for newsfeeds based on each post's popularity. (Goodbye, reverse-chronological order).
2009 – 2019:
A decade of further tinkering behind the curtain created the experience that billions of users now take for granted: personalized feeds created by galaxy-brain software that analyzes tens of thousands of data points in order to maximize the amount of time people spent on the platform. Because more screen time = more ads seen = more money for Facebook's shareholders.
2015
For instance, in 2015, Facebook introduced the "See First" feature to let users choose which Pages they'd like to see at the top of their feeds. They also started downranking Pages that posted a high volume of overly promotional organic content. (i.e., organic posts with content identical to ads.)
2016
In 2016, Facebook began prioritizing posts from friends and family, as well as "informative" and "entertaining" content. It also started measuring a post's value based on the amount of time users spent with it, even if they didn't like or share it. Live video was also prioritized, as it was earning 3x as much watch time, compared to regular video.
2017
In 2017, some big changes included weighing reactions (i.e., hearts or the angry face) more than likes. They also started weighing videos by completion rate.
2018
However, in January 2018, responding in part to widespread criticism, Mark Zuckerberg announced Facebook newsfeed changes that prioritize "posts that spark conversations and meaningful interactions." The change was meant to increase the quality, rather than the quantity, of the time that people spend on Facebook, as well as take more responsibility for how the platform affects its users' well-being.
In the short term, brands had valid concerns about the fact that their organic content would no longer be prioritized as highly as posts from friends, family, and groups. The algorithm was now set to prioritize posts that earned a lot of high-value engagement (eg., comments, reactions, comment replies—and if a post was shared over Messenger to a friend, that counted too). In other words: to get the reach to earn engagement, brands had to be earning engagement already.
2019
A year later, in March 2019, at least one study found that while engagement had increased 50% year over year, the algorithm changes also increased divisiveness and outrage as it tended to promote posts that got people worked up. (Fox News, whose reporting evokes strong opinions from many, became the top publisher on Facebook by engagement.)
Simultaneously, the algorithm ended up rewarding fringe content (a.k.a. fake news) from unreliable sources that knew how to game the system.
The Facebook algorithm will probably always remain a work-in-progress. So let's take a look at what matters to brands who want to optimize their organic reach today.
How the Facebook algorithm works in 2020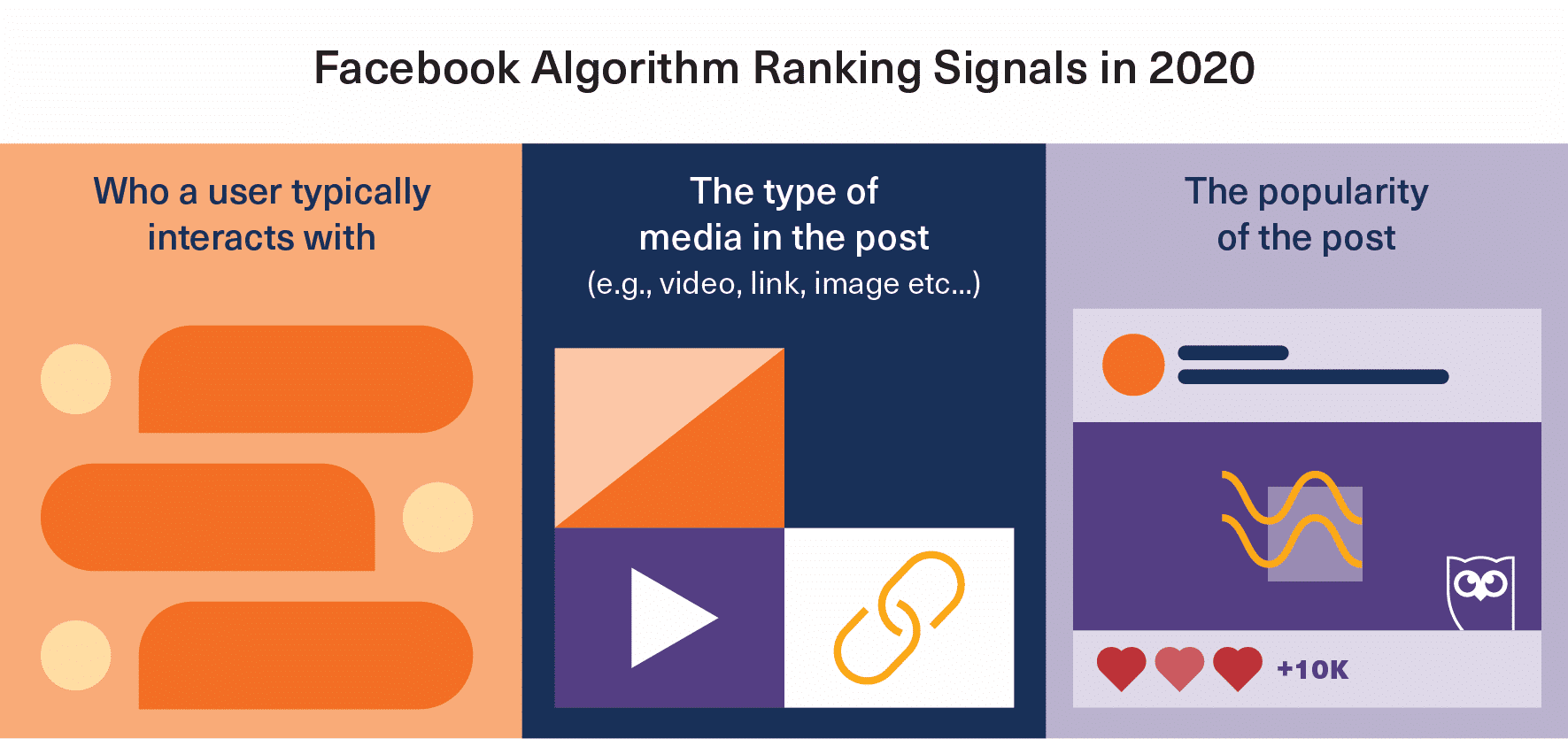 The algorithm currently ranks the posts each user sees in the order that they're likely to enjoy them, based on a variety of factors, a.k.a ranking signals.
As of 2020, Facebook has stated that its focus is on helping users understand the algorithm, and take control of those ranking signals to give it better feedback.
Ranking signals are data points about a user's past behaviour, and the behaviour of everyone else on the platform, too. For instance: are people sharing this post with their friends? How often do you like posts from your boss? From your mom? Do you often watch live video? What's your favourite Group? How many posts are, theoretically, available for you to look at, right now? How new are they?
You get the idea. The algorithm weighs a lot of factors before it decides to show you that puma cub video.
Facebook mentions three major categories of ranking signals:
Who a user typically interacts with
The type of media in the post (eg., video, link, photo, etc.)
The popularity of the post
In March 2019, Facebook introduced a new tool to build more transparency and user control into the newsfeed. The "Why am I seeing this post?" button does exactly as it says: it helps people understand why the algorithm has surfaced that post.
It also lets people tell the algorithm directly what's important—or not so important, or downright irritating—to them. Meaning they can tell Facebook that they want fewer posts from a particular person, or to see more from a particular Page.
Next, in May 2019, Facebook began directly asking users questions, via survey, to get more context on what content matters to them. The surveys asked users:
Who their close friends are;
What posts (links, photos and videos) they find valuable;
How important a specific Facebook Group that they've joined is to them;
How interested they are in seeing content from specific Pages that they follow.
Facebook used all these answers to update the algorithm with the patterns they extrapolated. For instance, the Pages and Groups that people identified as most meaningful were often the ones that they'd followed for a long time, the ones they engaged with often, and the ones that had a lot of posts and activity.